FAQ on Tune4mac iTunes Apple Music Converter for Windows
What's the differences between Tune4mac iTunes Apple Music Converter and other iTunes Audio converter tools?
Tune4mac iTunes Apple Music Converter is the fastest iTunes / Apple Music to MP3 Converter, which can convert DRM protected Music at 10X faster speed than other DRM removal programs do.
I have received the code. How to register it?
1: Run the program and click the top-right "Menu" button and choose "Register" in the drop-down list, you will get the registration window. Copy and paste the registration Email and Code into the registration popup dialog.
2: Fill the two blanks with your registration Email and product code you have received from the email. Then click OK.
What can I do if I get the message "Invalid Code" when trying to register?
1: First please make sure that you have downloaded the right program.
2: The registration code is case sensitive. And, please do not add blank at the beginning or the end of the word. You can also copy and paste the Email address and Code into the registration popup dialog.
3: If you are sure that you are running the right program and following the direction but still get the error message, please contact our support team for help.
Why can I only convert the first 3 minutes of each audio?
It's the limitation of trial version. After you have bought a single user license, we'll send you a key/code to unlock the limitation.
What kinds of music format the program supports? What output format can it export?
Now, Tune4mac iTunes Apple Music Converter is specially designed for converting Music to MP3, M4A, M4B, WAV and FLAC format.
The output audio quality is unsatisfied, how to improve the output quality?
Please set the output format as MP3, bitrate as 256kbps and slow down the converting speed to have a try. To customize output settings, please open program preferences by clicking Menu Bar > Tune4mac iTunes Apple Music Converter > Preferences or directly clicking the Setting Button button on the main interface. Then, set "MP3" as output format, "Medium (256kbps)" as output quality and "5x" or lower as convert speed in the pop-up window.
Whether the metadata can be kept after conversion?
Once choosing MP3 or AAC as output format, the metadata (including title, artist, album, year, track number and genre) will be kept by default.
How to submit feedback through the program?
Now, users can submit their feedback through the Apple Music Converter for Windows by clicking menu button and choose "Feedback" in the drop-down list.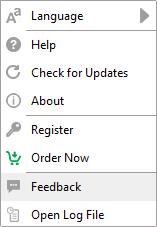 I encounter some problems that I can't find in FAQ. How can I get technical support?
Please contact our support team via support@tune4mac.com, tell us which problem are you encountering and provide us with detailed info like Windows OS, iTunes version, and the log files for analysis.
Which Windows OS are you using? 32 bits or 64 bits? And your iTunes version?
What kind of audio are you converting? Apple Music? DRM-ed audiobooks? iTunes M4P song or ordinary audio files?
What is the output format and setting you choose?
Does the problem happen to certain audio file or to all the audio files?
Please send us two log files: you can find it by going to the program, Menu > Open Log File. They are called itunes.log and log.txt.
About Us | Contact |Sitemap | Privacy | Terms & Conditions | Legal Disclaimer
Apple logo® and iTunes Logo® are trademarks of Apple Inc.