How to Rip DVD Collections to Samsung Galaxy Tab
Brief introduction to Samsung Galaxy Tab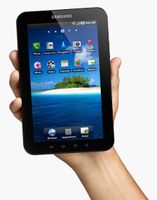 Samsung Galaxy Tab is a Andriod-based tablet computer produced by South Korea' largest business group Samsung, and was introduced on September 2nd ,2010 in Berlin, Germany.
Samsung Galaxy Tab, supporting multi-touch, has a 7-inch screen with a 1024×600 resolution. CPU is a Exynos 3110 Applications Processor (Also known as Hummingbird) features 1.0 GHz ARM architecture Cortex A8 application and has 512 MB of RAM paired with a PowerVR SGX540 graphics processor. It has two cameras, a 1.3MP front camera for video call and a 3.2MP rear camera for photographing. The tablet supports a flash card with up to 32GB, and several HD video formats, including DivX, XviD, MPEG4, H.263, H.264. Its battery can last as long as 10 hours.
From the above-mentioned features, it is not difficult at all to get the conclusion that Samsung Galaxy Tab is a good choice for watching movie or MV on a trip. If you are a Mac user with a lot of DVD collections and Samsung Galaxy Tab and at the same time a fan of movie or MV, you may wonder how to put those DVD collections to your Samsung Galaxy so that you can watch them whenever you want on the go. Now you are on the way to getting a satisfactory answer.
Ripping DVD collections to Samsung Galaxy Tab
Preparations:
1. Mac Computer
2. Samsung Galaxy Tab
3. DVD collection
4. Tune4Mac DVD Converter Pro (free trial)
Precedures
1. Download and install Tun4Mac DVD Converter Pro on your Mac, register it.
2. Insert the DVD disc you want into Mac driver.
3. Click "Load DVD" button to select the chapter you want to convert.
4. Choose "Common Used Video Format→Customized MP4 Movie" in the profile droplist, set other parameters of the video, for instance, video codec, size, bitrate, framerate and audio codec, bitrate, channel and sample rate.
5. After the parameters are set, you can now click "Encode" to convert the chapter you want into MP4 format files.
6. Sync the converted files to your Samsung Galaxy Tab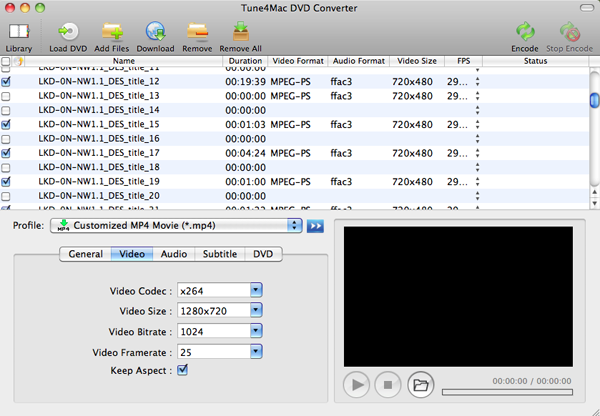 With just a few steps above, you can now load DVD movies or MV into your Samsung Galaxy Tab and watch them on the trip without putting burden on yourself.