Audiobooks That Were Made into Movies
Do you fond of listening to audiobook? As the year 2012 coming to the end, iTunes Store listed their top 10 audiobooks. And here are some charming audiobooks that were made into movies.

Audiobook: Like every other hobbit, Bilbo Baggins likes nothing better than a quite evening in his smug hole in the ground, dining on a sumptuous dinner in front of a fire. But when a wandering wizard captivates him with tales of the unknown, Bilbo becomes restless. Soon he joins the wizard's band of homeless dwarves in search of giant spiders, savage wolves, and other dangers. Bilbo quickly tires of the quest for adventure and longs for the security of his familiar home. But before he can return to his life of comfort, he must face the greatest threat of all – a reassure-troving dragon named Snaug.
Movie: It is a trilogy, but now only one of them released, it's the hot "An Unexpected Journey". The "Desolation of Smaug" and "There and Back Again" will be released in the coming next two years.
Audiobook: The Fellowship of the Ring, the first volume in the trilogy, tells of the fateful power of the One Ring. It begins a magnificent tale of adventure that will plugin the members of the Fellowship of the Ring into a perilous quest and set the stage for the ultimate clash between the powers of good and evil.
Movie: The movie has won 4 Oscars, another 79 wins and 89 nominations, and it is the 13th of IMDB's Top 250. And the great movie is available on iTunes.
Audiobook: Jay Gatsby is still in love with Daisy, whom he met during the war when he was penniless. Having made himself wealthy through illegal means, he now lives in a mansion across the bay from the home of Daisy Buchanan, who has since married for money. Holding on to his illusion of Daisy as perfect, he seeks to impress her with his wealthy, and uses his new neighbor, Nick Carraway (our narrator), to reach her.

Daisy's wealthy but boring husband is cheating on her. When his mistress is killed in an accident caused by Daisy, Gatsby covers for her and takes the blame. The result is a murder and an ending, which reveals the failure of money to buy love or happiness.
Movie: Nick Carraway, a Midwesterner now living on Long Island, finds himself fascinated by the mysterious past and lavish lifestyle of his neighbor, Jay Gatsby. He is drawn into Gatsby's circle, becoming a witness to obsession and tragedy. This observed movie is stared with Leonardo Dicaprio. And it will be released in U.S. on 10th, May 2013.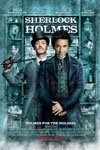 Audiobook: The fantastic London based "consulting detective", famous for his astute logical reasoning, his ability to take almost any disguise, and his use of forensic science skills to solve difficult cases. This nine-hour audiobook contains twelve of his most exciting adventures!
Movie: Stories about Sherlock Holmes has been made into different movies and series. And that is the beauty of great stories. People seldom get bored about the story and the drama. The latest series about the story is "Sherlock", and the movie is "A Game of Shadows", which are all available on iTunes.
Tip for People who Like Audiobook:
Audiobooks on iTunes and Audible.com are protected with DRM .AA, namely, readers are only allowed to play them on Apple iPod, iPhone or other specific devices. What if you want to play the protected .AA audiobooks on PSP, PS3, Android, Windows Phones or other MP3 players?
Users could use Audiobook DRM removal -- Tune4mac iTunes Audio Converter to convert any protected iTunes AA, M4B audiobook files to MP3, AAC, WAV. And those audio formats are mostly compatible with mobile phones, tablets, and MP3 players.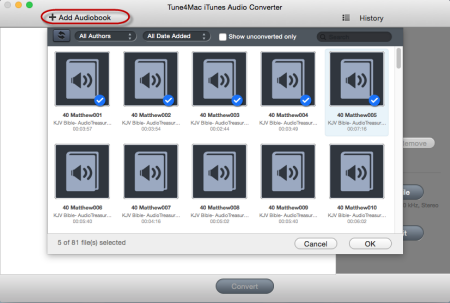 1. Import audiobooks to iTunes library.
2. Launch the program Tune4mac iTunes Audio Converter.
3. Click "Profile>Output File Format", to set the output format as MP3.
4. Click "Add Audiobook" to add audio books from iTunes to Tune4mac.
5. Click "Convert" to start converting AA audiobook to MP3.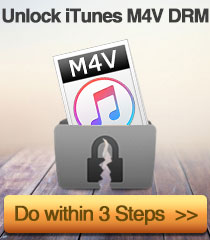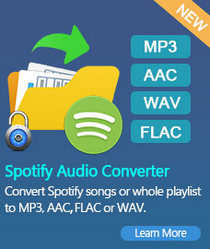 Hot Articles
We Promise