Installation & Registration Guide
1) System Requirements
OS Supported - Mac OS X 10.7.x, 10.8, 10.9 or later
Processor - 1G Hz Intel, or above
Physical RAM - 512M or more
2) Installing
Step 1: Download the installation package for app.
Step 2: Double-click "app.dmg" to start installation.
Step 3: Follow the instructions to finish the installation.
Step 4: When you see a window where there is an icon of app, drag and drop the icon onto the desktop. Then you can just run the program from the desktop icon.
.
Step1: Run app, then click the app menu, and select the Registration... option.
Step2: After the registration box popped up, please fill the input blanks with Registration Name and Registration Code. You can also use Command+ C to copy and Command+ V to paste in the window.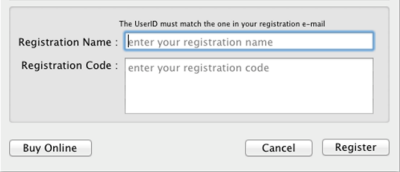 Notice:
1. Make sure that the Registration Name and Registration Code both are provided by our company after you pay the registration fee. If you have not paid, please click Buy online to purchase.
2. Make sure the Registration Name and Registration Code you entered are both completely and correctly, if not, you will get an error message.

Step3: After you finished registration successfully, the limitation of your app's trial version will be removed.