Nokia Lumia 920: The Flagship of Windows Phone 8
& Comparison with Other Smartphones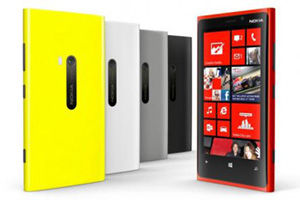 As we know, Nokia Lumia 920 is a smartphone which developed by Nokia, and running the new system Windows Phone 8. It's now available.
Comparison with Lumia 900
Compare with the flagship Lumia 900 from Windows Phone 7 era, the two devices look quite similar, but the case of Lumia 900 is gloomy while 920 is shiny and smooth, and 920 has a curved screen, which makes it feel better, more ergonomic.
Lumia 900's resolution is 800 x 480, 1.4GHz single-core processor, and the RAM is 512 M. Now improvements have been made. Lumia 920 has equipped with 1.5GHz dual-core Snapdragon S4 processor, 1GB of RAM, 32GB of storage, a 4.5-inch 1280×720 display (326 PPI!); 8.7 megapixels Carl Zeiss camera, and support pureview shooting technology, wireless charging, and glove-friendly touchscreen.
PureMotion HD+ Screen
Nokia Lumia 920 has a revolutionary technology - PureMotion HD+. The PureMotion HD+ uses advanced PureMotion technology to get high pixel density, brighter screen, and faster refresh. It also makes revolutionary innovation in the touch-sensitive.
HD+ high pixel density
HD+ is about its resolution: 1280 × 768. The number of pixels of its 4.5-inch large screen is 60% higher than iPhone 5 (1136 × 640), 7% higher than Samsung Galaxy S III (720 × 1280).
And the display is more delicate than many competitors' products, the pixel density of up to 332 PPI. In contrast, the iPhone 5 is 325 PPI, HTC One X is 312 PPI, and Samsung Galaxy S3 is 306 PPI, while the Galaxy Note 2 has only 285 PPI.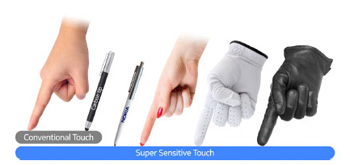 Super Sensitive Touch
Compare with Other capacitive screen mobile phones that need to operate with the pulp, Lumia 920 screen sensibility is beyond al other smart phones' screens. Users could wear gloves, long fingernails, or even an ordinary ballpoint pen to complete the phone touch operation.
PureView imaging technology
Lumia 920 is equipped with a 8.7 megapixel rear camera, and the PureView technology is the first time being used on the Lumia phones. PureView technology uses advanced optical image stabilization technology. In a low light environment, and even the flash lamp is not opened, it is still able to intake five times more light than ordinary mobile phone's camera, hence no matter users are indoor, or at night, it is capable to capture clear, bright pictures and videos.
To enhance effects from dark, Lumia 920 adopted a new method – Backside illumination. The back-illumination (BSI) and a conventional front-illumination (FSI) have a texture difference between the photosensitive effects. Thus, although the size of the pixels is the same, but its pixel photosensitive effect is better.
Lumia 920 also uses a Carl Zeiss lens, f/2.0 aperture to capture more lights into sensor. These changes mean that you can shoot better photos on a cloudy day, evening or indoor.
More great progress is the optical image stabilization system (OIS), also known as optical image stabilization. There has some phone supports digital image stabilization feature, but this cannot be compared with the OIS. Lumia 920 will be judged by the built-in gyroscope phone direction of movement, and to move the entire shooting module to ensure that the hand jitter does not affect shooting. In addition to be able to help bring excellent video, OIS can significantly enhance the photographic effect in the dark light, because the longer the exposure time, the more stable needed.
Here is an image that stands for itself: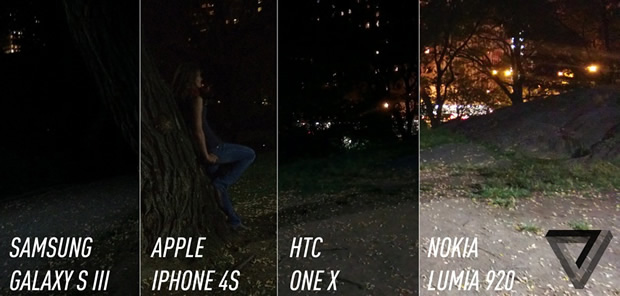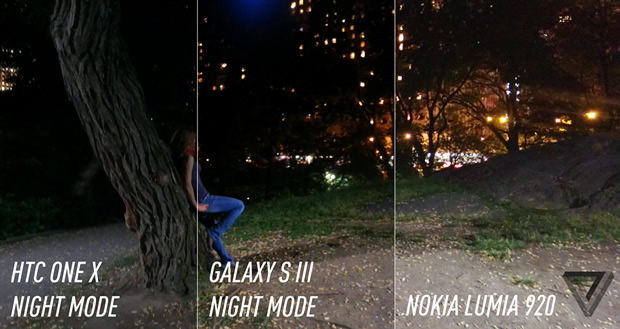 City Lens
Besides PureMotion and PureView, Lumia 920 is also equipped with Nokia's urban kaleidoscope – Nokia City Lens, which is adding a new suite of Nokia Map and location-based services augmented to reality experience: only need to align the camera to the city streets, then the buildings will be displayed with restaurants, hotels, and other information. It also allows switching between map view and augmented reality view, to help people identify the direction and understand the surrounding environment.
Comparison with Other Smart Phones
Product
Apple iPhone 5
Samsung Galaxy S3
HTC Droid DNA
Nokia Lumia 920

Operating System

iOS 6.0.1
Android 4.0 with TouchWiz UI
Android 4.1 with HTC Sense 4+
Windows Phone 8

Screen

4.0-inch LCD
4.8-inch
Super AMOLED
5-inch Super LCD 3

4.5-inch
PureMotion HD+ IPS

Resolution

1,136 × 640
1,280×720
1,920×1,080
1280x768
Processor
Dual-core A6X
Dual-core Snapdragon S4 (US)
1.5GHz, quad-core Snapdragon S4 Pro
1.5GHz, quad-core Snapdragon S4 Pro
RAM
1GB
2GB
2GB
1GB
Storage
16 / 32 /64GB
16 / 32GB + micro SD
16GB
32GB
SD Slot
NO
YES
NO
NO
Front Camera
1.2 Mefapixels
1.9 Megapixels
2.1 Megapixels
1.2 Megapixels
Rear Camera
8 Mefapixels

8 Mefapixels
8 Mefapixels
8.7 Megapixels
Connectivity
Wi-Fi, 4G LTE, HSPA+
Wi-Fi, 4G LTE, HSPA+
Wi-Fi, 4G LTE, EV-DO Rev.A
Wi-Fi, 3G (WCDMA), 4G LTE
Bluetooth
4.0
4.0
4.0
4.0
Battery
1440mAh
8 hours
2100mAh
2100mAh
12.8 hours
2000mAh
Talk Time
8 hours
8 hours
12.8 hours
17 hours (2G)
10 hours (3G)
Standby Time
225 hours
225 hours
352.8 hours
400 hours
Charger
Lightning connector
Micro USB
Micro USB
Micro USB, Wireless
Size
123.8 x 58.6 x 7.6 (mm)
136.6 x 70.6 x 8.6 (mm)
140.9 x 70.6 x 9.7 (mm)
130.3 x 70.8 x 10.7 (mm)
Weight
112g
133g
140g
185g
Price
$200+

$200+

$199 (contract)
$599.99

$200+

Status
Available
Available
Available
Available
If you have iTunes videos, and owned a Nokia Lumia 920 or on the way of buying one, iTunes to Lumia 920 Converter is a good assistant to convert iTunes purchases and rentals to Lumia 920 for playback.
>>How to convert iTunes videos and movies to Lumia 920 and Windows Phones for Playback?
---