How to Download Videos from YouTube
Have you ever met the situation: You find an amazing YouTube video but cannot get it downloaded, so you just add the page to the bookmark, months later, there are dozens of pages which you never opened again. Once you collate them, you delete them all. Still, you don't have the video.
However, here do are several ways to download YouTube videos. Like the methods listed below:
1.With a "Kiss"
Within a FLV plugin, this method is easy and fast. Just put a "kiss" before the YouTube's URL. For example, it's the URL of the fond video: www.youtube.com/watch?v=YV3gcM-QLZU, we just need to change the address to www.kissyoutube.com/watch?v=YV3gcM-QLZU, with a "kiss".
2. With Safari

, and Option+Command+A
Using safari to watch the video, click on the keyboard Option+Command+A, to select the video, and double click it to download. The benefit of this method is do not need to install any scripts and softwares, and videos from other websites could also be downloaded as long as safari could open the URL. But disadvantages are clear, it's such a hassle to find the right file from all. Besides, not all videos can be downloaded, numerous websites bought Flash Media Server and Flash Access, which means, FREE ONLY.
3. With YouTube Downloader
If you are using chrome or firefox as browser, you can directly install the script YouTube Downloader. The interface includes a tabbed format for easy downloading, converting, and playing, and a new Activity tab allows you to keep track of multiple downloads and conversions in real time. It has two versions, free version, and paid version for unlock enhanced features such as faster download times or multiple concurrent downloads.
4. With Any Video Converter Ultimate

This is an all-in-one Mac Software for Portable Devices = DVD Ripper + Video Converter + Web Video Downloader + Screen Recorder + iPod Manager + Video Editor, etc, which could easily help to download videos from Youtube, Facebook, Movieclips, and other websites mentioned in the software.
Steps to Download Videos from YouTube with AVC Ultimate
Step 1. Download Any Video Converter Ultimate (Free Trial) and install.
Step 2. Launch AVC Ultimate. Click "Online Video" and "Add" button to enter YouTube video URL.
Step 3. Click "Start" to download YouTube video.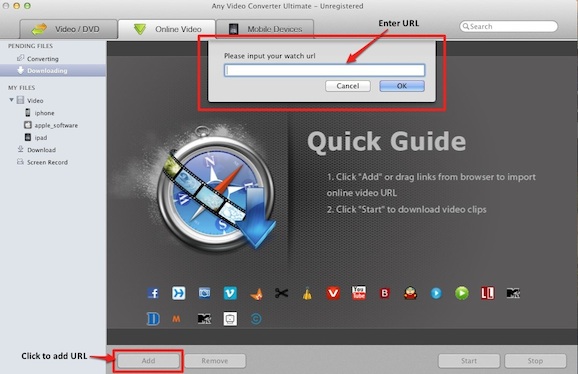 After it's downloaded, also could convert the video to whatever formats you want.
Step 4. Click "Add to Conversion List".
Step 5. Click "Profile" to choose output format required. Then hit "Convert Now".
Step 6. Wait for a while to get the YouTube video converted.
How do you usually download videos from Internet? If you have any easier way, what not share it with us?