How to Fix Error 1001?
If you are encountering with Error 1001 code when converting Spotify music with Tune4Mac Spotify Music Converter for Windows, please refer to the following solutions for a try.
Solution 1: Make Sure You Install the Desktop Version of Spotify
We suggest you reinstall Spotify. Please make sure that you download and install the desktop version of Spotify on your computer, NOT from Windows 10 Store. Click Here to get Spotify official download.
Solution 2: Check the Settings
1. Please launch Sidify and go to Menu (on the upper right) > Open Log File, delete "setting.xml" and then restart the program.
2. Please open Spotify, try to find "Edit ->Preferences" and enable the option that says "Allow Spotify to be opened from the web".
3: Please check whether your firewall settings had blocked or disabled Spotify Web Service.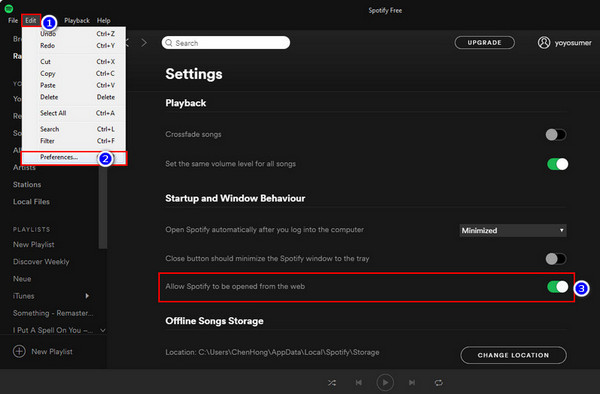 If that doesn't fix the problem, please contact us at: support@tune4mac.com. Please also try to provide us with following information for further analysis. We will submit your feedback to our developer and inform you if the solution is available.
Which Windows OS are you using? 32 bits or 64 bits?
What is the output format you choose?
Please send us the two log files of Tune4mac Spotify Audio Converter. You can find it by going to the program, Menu > Open Log File. It is called log.txt and record.log.
About Us | Contact |Sitemap | Privacy | Terms & Conditions | Legal Disclaimer
Apple logo® and iTunes Logo® are trademarks of Apple Inc.